Reported by Jules Levin
AASLD 2015 Nov 13-17 San Francsico

Stefan Christensen1 , Stefan Mauss2, Dietrich Hueppe3, Knud Schewe4, Thomas Lutz5, Juergen Rockstroh6, Marcel Schuetze7, Guenther Schmutz2, Karl Georg Simon8, Torben Kimhofer9, Heiner Busch1, Guenther Schmutz6, Patrick Ingiliz7, Axel Baumgarten7
1 CIM Infectious diseases, Muenster, 2 Center for HIV and
Hepatogastroenterology, Duesseldorf, 3 Practice for Gastroenterology Herne, Herne, 4 Infektionsmedizinisches Centrum Hamburg, Hamburg, 5 Infektiologikum, Frankfurt, 6 Medical Department 1, University Hospital Bonn, Bonn, 7 Medizinisches Infektiologie Zentrum Berlin, Berlin, 8 Practice for Gastroenterology Leverkusen, Leverkusen, Germany, 9 Division of Computational and Systems Medicine, Department of Surgery and Cancer, FoM, Imperial College London, London, UK.

Conclusion

Sofosbuvir plus ledipasvir for 8 weeks (SL8) achieved excellent response rates in a German real-life setting. HIV coinfected patients responded as well as HCV monoinfected patients. High SVR rates were even seen in patients treated outside recommendation" (HVL, F4, prior treatment, GT4). SL8 was safe and well tolerated.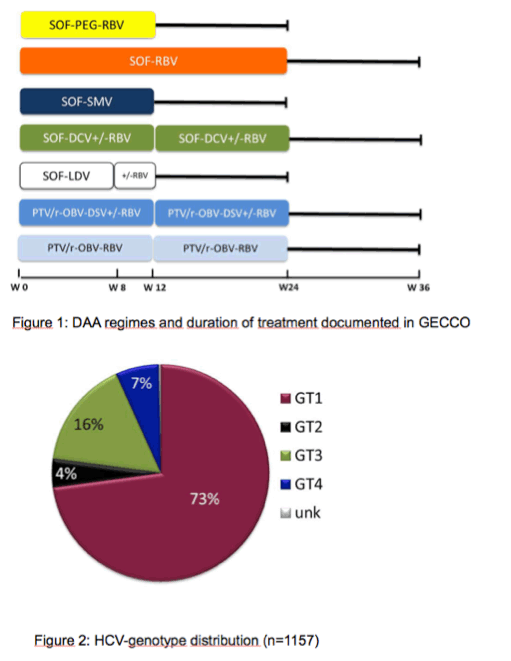 Results

Up to now, 1157 patients were included into the cohort. The HCV genotype (GT) distribution was as follows (figure 2): 845 (73%) GT 1, 46 (4%) GT 2, 185 (16%) GT 3, 81 (7%) GT4. N=148 were treated with SL8. In SL8 group n= 144 (97%) were GT1, n=3 GT4 infected. N=72 (49%) were male, and the mean age was 52 years. 28 (19%) were HIV-HCV coinfected with a median CD4 cell count of 531/mm3 (346-683) (table 1). N=5 (3%) had F4 Fibrosis defined as Fibroscan > 12,5 KPa or APRI > 2.